Are Limiting Beliefs Holding You Back From Achieving Your Dreams?
You are looking for ways to turn your limiting beliefs into success for your life and business.  You may not even be conscious of your limiting beliefs. This makes it difficult to be able to overcome them. You have had these beliefs for so long that they are obscured and you sometimes feel they are imagined.
If you don't know how to overcome your limiting beliefs you can find yourself going nowhere and heading further away from your goals.
This is when your limiting beliefs can surface leaving you feeling weak, worthless and incompetent or worst of all a failure.
There are various types of limiting beliefs. Here are some of the common ones.
If I start a new business venture and fail then I will lose credibility.
If I am successful then my family and friends might shun me.
Money is the root of all evil.
I'm not good enough.
I don't matter.
I have no credibility.
People don't see me as successful.
The list could go on but you get the point about limiting beliefs.
How Limiting Beliefs Surface
Our limiting beliefs are usually hidden in our subconscious mind. We are not always totally aware of them until we set some goals and start working on them.
You may have set a seemingly achievable goal but you start to have doubts that you can achieve it. Thoughts such as I'm not clever enough to make my ideas work so I can achieve this goal, come to mind.
You may have family and friends trying to discourage you from giving your goals a try.
There will also be many distractions that come along as you work on your goals. You have research to do which takes time and you begin to feel that you will never make it and maybe you are not capable of achieving your goals.
This is where your mental attitude is making you feel inadequate and your limiting beliefs are taking control.
Now is the time to realise that achieving your goals won't necessarily be an easy ride. Your limiting beliefs are affecting your thoughts and actions that will keep you from reaching these goals.
You believe that your goals are important to you but you are easily distracted and are finding it hard to concentrate on your plans to get the necessary work done.
When you wrote down your goals it all seemed so easy but now you find yourself thinking of all the reasons why your plans won't work. It can then be so easy to talk yourself out of giving your ideas a go.
You have now fallen victim to your limiting beliefs.
Why Is It That We Have These Limiting Beliefs?
There are many limiting beliefs that we have had since childhood. Some are valuable as they can protect us from harm but others inhibit us from achieving new activities and accomplishments.
While this protection is good we don't really need protection from many of our goals, only the ones that may be too adventurous and dangerous!
Normally business goals don't fall into that category! The good news is that your brain is accommodating and adaptable to enable you to learn the skills you need so you can achieve your goals.
All we need to do to overcome any limiting beliefs is to re-programme our mind away from these deep-seated beliefs to learn how to install new responses to enable us to do what we thought we couldn't because of our limiting beliefs.
It can be so easy to allow self-sabotage to stop you from achieving your goals and this is what is happening when you let your limiting beliefs take control.
How to Defeat Limiting Beliefs by Owning and Conquering Them
When you know how to overcome your limiting beliefs to be able to work toward and achieve your goals, this is very liberating.
For many this belief system can be too strong to let go of as there is always the fear of failure lurking in the subconscious.
It is when we accept that we are holding on to our limiting beliefs and they are keeping us from achieving our goals but we can do something about it we are able to work on a strategy for success.
You may find the following tips helpful when your limiting beliefs hold you back.
Be continually aware that the familiar areas of life are easier to handle than the unknown. Make a specific point to not allow the fear of the unknown hold you back from achieving your goals.
When you start thinking from a limiting belief standpoint recognise this and challenge your thoughts to channel them toward focusing on your goals.
Most of all don't limit yourself to what you think you can do. Instead re-programme your thoughts to believing in yourself as this is the first step to achieving your goals.
Final Thoughts on Overcoming Limiting Beliefs
We are all victims of our limiting beliefs but this doesn't need to be a permanent situation. When you become aware of how these beliefs can hold you back from achieving your goals you can make a conscious effort to redirect your thoughts.
It is usually a strong mental drive that overcomes limiting beliefs. We have a specific goal in mind and now a major determination to achieve that goal that makes us change our thought patterns from limiting to inspiring.
Every successful person had doubts about their plans, it is a natural feeling. What makes them different is that when they came across a hurdle instead of embracing the 'I can't and this is too hard' thoughts they thought 'yes I can and I will'. They turned these obstacles into opportunities for success as their determination was greater than any limitations.
Here are a few quotes to encourage you if you are feeling overwhelmed by your feelings and beginning to doubt your abilities to succeed in achieving your goals.
"If we can see past preconceived limitations, then the possibilities are endless." ―Amy Purdy
"Life has no limitations, except the ones you make." ―Les Brown
"I'm not interested in your limiting beliefs; I'm interested in what makes you limitless." ―Brendon Burchard
When you feel you have come to a roadblock in your journey toward you goals because you have had a sudden limiting thought remember the only limitations are the ones you allow so you are limitless!
Did This Post Help You? Share your thoughts in the comments below. And, feel free to share it
To your Success
Elaine
PS: Ready to take your business to the next level? Check this link to discover business tools and training to build a successful business
Join us every Wednesday Evening for Free Training Webinars
THE TOP EARNER FRAMEWORK?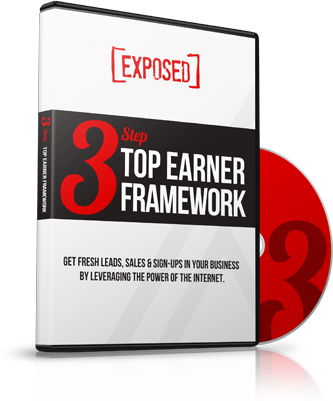 FINALLY Unlock the 3-Step Framework and Learn How to Get Fresh Leads, Sales & Sign-Ups in YOUR Business Leveraging the Power of the Internet.