9 Focus Tips To Increase Productivity For Busy  Entrepreneurs
There are certain steps to take if you want to increase productivity and reduce stress in your busy life.
The focus is to be productive rather than just busy. Having a full and demanding schedule doesn't necessarily mean you are fully productive.
When you concentrate on productivity you understand that having fewer priorities is better than too many that only produce overwhelm.
Being more focused on activity rather than being clear on the purpose of the activity can lead to excessive stress and sometimes burn out.
As an entrepreneur your day can so easily become crowded with a long to-do list, meetings, endless phone calls and of course numerous emails!
This is where these 9 tips to increase productivity and relieve stress will be beneficial to your schedule.
These tips will help you as a busy entrepreneur to manage your day productively and enjoy life in a more stress-free way.
Increase Productivity Tip #1: Have an Attitude of Gratitude
Gratitude is so important to our productivity.
Research shows that having an attitude of gratitude can have a positive effect on your success.
Beginning and ending your day with gratitude is a great way to increase productivity and relieve the stressors in your busy life.
Many successful entrepreneurs have a gratitude journal and consider it to be an important part of their life.
Gratitude can improve your sense of well-being. When you focus on gratitude you are saying yes to life. You are acknowledging that life is good and you have so much to be grateful for.
Cultivate the habit of being grateful for every good thing that comes to you, and to give thanks continuously. And because all things have contributed to your advancement, you should include all things in your gratitude.  Ralph Waldo Emerson
Increase Productivity Tip #2: Use Affirmations
Positive affirmations are useful to increasing productivity and reducing the stress of daily routine. When you develop a positive attitude and use affirmations that boost your confidence you will see an increase in your productivity and a reduction in stress levels.
The first step to a positive stress free life is to replace 'I can't' with 'I can'
Many people use affirmations to overcome any negative thoughts. Affirmations can help you visualise success and achieving your goals. When you affirm yourself you are enabling yourself to make positive changes in your life as an entrepreneur.
Affirmations are great when you need to control negative thoughts and improve your productivity. They can also help you to be more energised to complete projects that you have underway.
Affirmations are usually brief positive statements that focus on encouraging and motivating you in a specific area of your life.
Increase Productivity Tip #3: Meditation
Setting aside 30 minutes each day for mediation will get you in the right mind-set for success and productivity. Taking the time to relax and reprogram your mind will set your day off to a great start.
Take deep breaths and let go of any negative thought patterns, this will relax you.
You may like to listen to relaxing music as you meditate.
People who add meditation to their daily activities have been shown to feel less anxious and they experience more enjoyment in life. They have a deeper appreciation of who they are and what they can achieve.
Mediation can help you to feel more confident as you head into your day full of great opportunities.
Increase Productivity Tip #4: Have A Positive Attitude
When you maintain a positive attitude this can increase your productivity and eliminate the stress that comes from a busy routine.
As an entrepreneur who is focused on success you will have a learning mind-set that helps you remain positive. This positivity comes from keeping your eyes on your goals. Being a high achiever is part of your strategy.
Having a positive attitude can help you in so many ways. You will feel so much better about yourself and your life in general. A positive attitude will help you to appreciate all the good things you have in life.
Having a positive attitude is great for your stress levels. When you have less stress in your life you have an overall feeling of well-being.
A positive attitude will help you achieve your goals. Remember a negative attitude tells you that you can't achieve success, but a positive attitude affirms that you can achieve success.
Increase Productivity Tip #5: Have Specific Well-Defined Goals
 This means you have created your goals in order of importance. Your plan is to focus on completing the important tasks first. Efficient productivity is the name of the game.
When you have specific goals you know what you can achieve and feel comfortable saying no when asked to add more tasks to your busy schedule.
Many busy entrepreneurs who plan their time strategically utilise the SMART goal setting technique.
This way they know they have specified their schedule.
They have set their goals as specific and know how they will achieve the desired results.
Their task is measurable and they know how long to task will take to complete.
Having a clear understanding of the attainability of the task is taken into consideration. Setting goals that are low enough to be achieved and high enough to be challenging for the entrepreneurial mind.
The goals are also realistic, knowing that the goal is the right one to meet the required outcome.
Having a specific time frame in which to achieve the goal is important as if the time frame is unrealistic this will create undue stress and decrease productivity.
Increase Productivity Tip #6: Have a Realistic To-do List
Check your to-do list and create a list of priorities. When you prioritise your list to cover the important tasks you will be more productive and alleviate the stress that goes with having an incomplete list.
When you have tasks that are continually on your list you will only create stress and frustration and this slows down productivity.
When you postpone tasks that you are most likely to procrastinate over because they fall into the too hard basket this will create stress and decrease your productivity.
So start your day by focusing on these more difficult task while you are feeling refreshed. You will find that you can power through them and feel a sense of achievement.
Increase Productivity Tip #7: Utilise Outsourcing And Delegation
Don't do everything yourself if you plan to be productive. Trying to do everything will only create undue stress. When you have minimal stress your will achieve more.
Delegate or outsource everything that is not necessary for you to do yourself.
Make use of the 80/20 rule and remove your least productive activities from your list.
Instead delegate these task to someone else.
Get clear on your priorities and be willing to let go of some and delegate these to others.
Increase Productivity Tip #8: Make Time For Yourself
Too many busy entrepreneurs forget to make self-care a priority in their lives. This is not beneficial to your productivity. Plan regular times for R&R in your day. Take a walk in the fresh air. This is a great way to relax and often you come up with some great ideas when you give your busy brain some time out.
Celebrate your achievements as this is a great way to energise yourself and reinvigorate your enthusiasm for your business.
So set aside some time in your schedule to spend time on a hobby, go to the movies, go for a picnic, to the beach or book a vacation.
Increase Productivity Tip #9: Eat Healthily and Get Plenty of Exercise
Your health is so important to your well-being. Plan for regular exercise and a healthy eating regime.
Your body is your engine and if it is well cared for it will care for you. You will have good mental clarity if you are healthy.
Include plenty of fruit and vegetables in your meal planning.
Throughout the day eat healthy snacks of fruit or raw vegetables.  You can also make smoothies from your favourite fruit and vegetables
It is recommended that you drink 8-10 glasses of water throughout the day. Have a water bottle handy so that you can keep well hydrated all day. This will also keep you mind clear as you work.
Make exercise part of your daily routine. Daily exercise will be beneficial in keeping you healthy. Take a 30 minute walk every day, enjoy the fresh air and boost your creativity.
You can use this time to listen to audio personal development so it is time well spent. You will be looking after your health as well as increasing your knowledge for your business
Relaxation improves your memory and concentration, and also improves your health.
Stress is not good for your health so it is important to relax regularly. So make time for relaxation as part of your daily routine and you will be doing yourself a big favour.
When you include relaxation into your lifestyle you feel so much better and you will be happier and get more done in your business.
Increase Productivity Summary
If you incorporate these nine strategies into your daily plan you will find yourself more productive and have less stress.
Plan each day well and at the end of each day take time to unwind. Go for a walk, listen to some relaxing music and most of all celebrate your achievements from the day.
This will encourage you as you make your plans for the next day.
Focus on enjoying your life and business by creating a plan to be productive,  and eliminate unhealthy stress.
Above all spend time being grateful for all you have
Did This Post Help You? Share your thoughts in the comments below. And, feel free to share it
To your Success
Elaine
PS: Ready to take your business to the next level? Check this link to discover business tools and training to build a successful business
FREE LIVE TRAINING THIS WED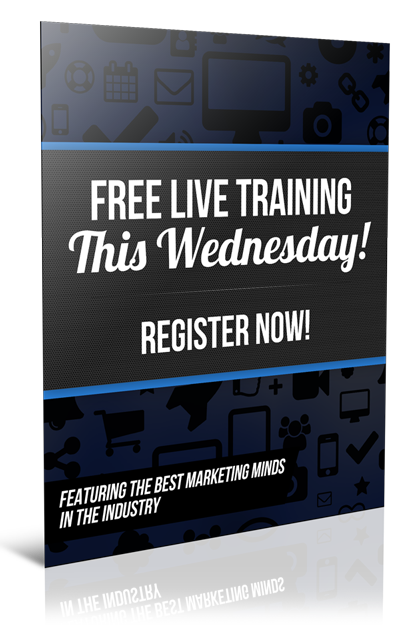 LIVE webinar with a 6-Figure Earner this Wednesday! Get strategies to help YOU get more leads & Profit in YOUR Business