FROM THE DESK OF ELAINE ROSS
Hello Friend
Does the current economic environment concern you? Do the words merger, downsizing and redundancy send shivers down your spine? Are you feeling concerned that you might become a casualty of any one of these, or maybe you already have and you are wondering what you can do about it. There is no such thing as job security any more.
 SO WHERE DO YOU FIT IN TO THIS SENARIO?
Are you searching for the prospect of security? Are you looking for more time and financial freedom? You may be considering being your own boss, starting your own business and are searching for ideas to achieve this dream. I want you to write down these three powerful words "YES I CAN"
These simple words can inspire you to enjoy the prospect of having your own business and get excited about going to work in a way you may never have before.
 YES I CAN SUCCEED IN MY OWN BUSINESS
Success comes from you building strong relationships so that your customers and prospects see you as a trusted advisor and consultant instead of a salesperson.
My plan is to help you achieve your desires so that you can say "Yes I can succeed in my own business!"
 A LITTLE ABOUT ME
I currently live in Auckland New Zealand.
I have a business degree with a human resource management major as people are my passion!
I worked for a number of years as a manager in the retail sector. As a manager I was able to focus on all aspects of the business. At one stage it was my responsibility to visit stores that were struggling and work with the team to increase sales and it was great to see the staff respond so enthusiastically when sales increased.
I have also worked as a Personal Manager in a variety of businesses. This role enabled me to design training and development plans that were based on learning as an ongoing process.
As a manager I thoroughly enjoyed training my staff in all aspects of their role within the business, as this develops potential opportunities beneficial both for business growth and for the self-worth of the staff. My philosophy is 'when staff are fulfilled in the role they hold within a business the business profits.'
Training and Development is such an important part of building a strong knowledge base. I believe in having a well thought out training plan that people enjoy as they see the benefits in working through the training. Creating a powerful vision within is what makes the training exciting.
My goal is to utilise my training background and share my knowledge with people who have the enthusiasm and desire to become their own boss.
MY VISION FOR HELPING ENTREPRENEURS ACHIEVE THEIR DREAMS
Society teaches us that we need to get a good education so we can get a great career and retire well.
Unfortunately this is not how it works. We get a good education and then discover there are not enough jobs out there for us to get our great career.
My plan is to help people with an entrepreneurial spirit who want to be their own boss and create business success.
I want to be able to help people create their own specific business brand and enjoy the experience of creating a legacy for their family and future.
I believe that if you have a dream you should never let it go. Instead you should pursue it and make it a reality.
If this describes you, you will undoubtedly know that the entrepreneurial life is like a roller coaster ride.
There are ups and downs and twists and turns that leave you feeling overwhelmed and exhausted.
This brick wall experience leaves you wondering how you will ever make it and you are not sure how to maintain the momentum you need to create the success you dream of.
So What Is The Solution?
So many people are looking for that special secret that successful people seem to have and know about.
But there is no secret. These successful people realised that to have success you have to believe in yourself and your vision. You also have to be willing to work hard.
So if you are looking for the secret formula of the successful that is it. Work hard on turning your dreams into reality and don't give up.
When you have this mind-set your vision will keep pulling you and you know that giving up is not an option. You plan to succeed no matter what you have to go through to achieve your dreams.
I believe that to create a strong business you need good business tools.
I found a marketing system full of great business tools and a vast training library that is fondly known by those in its community as the 'Harvard School of Business' for entrepreneurs.
I believe that each one of us is born with our own specific gifts that we can use to create a life that is rewarding.
My plan is to help you fulfil your dreams and enjoy a lifestyle that brings you a great sense of happiness and accomplishment.
I believe in you and want to encourage you to turn your dreams into reality
I look forward to being part of your journey to business success in whatever your dream business is.
To Your Success
Elaine Ross
THE TOP EARNER FRAMEWORK?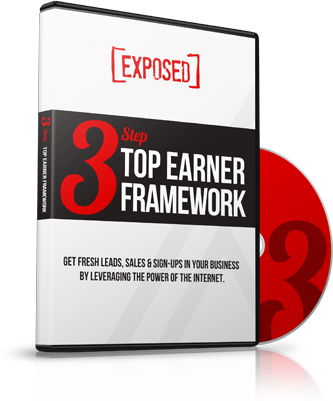 FINALLY Unlock the 3-Step Framework and Learn How to Get Fresh Leads, Sales & Sign-Ups in YOUR Business Leveraging the Power of the Internet.