How to Develop a Niche Marketing Strategy
Have you been trying to attract your ideal clients for your business but not being as successful as you had hoped? This is where knowing how to develop a niche marketing strategy is so important for your business.
Too many marketers are trying to appeal to everyone which means they are appealing to no-one. The problem we have when we use this approach is we believe that our products or service is right for everyone because we are so passionate about them
Most of us have been guilty of this when we start out in our business, but we soon realise that we need to take a serious look at our marketing approach.
To be able to develop a niche marketing strategy for success in your business it is important that you focus on your main strengths and primary niche market.
Your first step in developing your business for success is create a checklist that will help you find the niche market that is right for you.
So here are five tips to help you develop a niche marketing strategy that will enable you to build a successful business.
How to Develop a Niche Marketing Strategy Step 1: Create A List Of Your Skills And Interests.
This is a great brainstorming exercise. Write down everything that comes to mind about what you enjoy doing, and have specific knowledge about.
This is usually related to the products or services you are wanting to share with your audience.
Creating this list will help you to narrow down your niche.
When you start out with your list just write as ideas come to mind. You can refine it later as you read it through and take time to consider your expertise.
Every time you read the list new ideas will come to mind.
Many people have ideas in the middle of the night so make sure you have a notepad by your bed! Then if you do have a wonderful inspiration at 2am you will have it recorded.
Think about what you could write about or talk about easily and share your enthusiasm with others.
How to Develop a Niche Marketing Strategy Step 2: Relate Your Expertise To The Problems You Want To Solve.
Take time to think about how your skills and knowledge will help the people you want to reach.
This is a major step in the process of developing your niche marketing strategy.
You want to be able to create a profitable business that is focused on solving the real problems that people are facing and that you know you can help them with.
This is truly matching your expertise to their problems. Often your target market will not see their needs and desires as problems, but you understand how to meet the challenges they are facing.
When you relate your knowledge to the needs, desire and wants of your target market you are able to implement a strategy that will answer these challenges.
You might be targeting people who are creating their business online so you could be wanting to share ideas on lead generation with them.
If you are wanting to encourage your target audience to understand the importance of personal development you would be sharing your expertise in this area.
How to Develop a Niche Marketing Strategy Step 3: Determine How Your Specific Audience Recognises Their Needs, Desires And Problems.
It is important if you are going to be able to help your target market, that you understand how they are identifying their needs.
This way you will be able to create solutions that they will readily relate to and be drawn to.
You need to understand how they are thinking about their problems, how they describe their challenges, needs, and desires.
You can find out so much of this information by doing a Google search and see articles related to your niche.
Social media is a great place to get information about your target audience. Check out related groups and see what people are talking about, the questions they are asking and the comments they are making.
This is a great source of information to help you gain an understanding of what they are looking for and how you can address these issues.
After you have completed this type of research you will have a better understanding of how you can create content that will answer their problems, needs, desires and challenges.
Your potential customers have a problem that you know you can solve but they also need to be aware that they have a problem.
This is where your research is so important to help you connect your solutions with their problems.
You will be able to set yourself up as their go-to-person for information, once you have collated all your research data.
How to Develop a Niche Marketing Strategy Step 4: Research Your Target Audience.
This is where you do your analysis of what people are looking for when they search online.
The Google Keyword Planner is a great place to start to see how many searches are happening for the specific words and phrases related to your niche.
When you have the knowledge of what words and phrases to target in your content to get the attention of your target audience, this is a major step in your marketing.
This is how you will begin to understand the problems that your products or services can solve for your target market.
Utilise this information to help you determine who would be willing to pay for this information to solve their problems or meet their need and desires.
Another helpful tips is to check out how other people in your niche got started. You can make use of the market research they have done, so observe and learn tips from them on the way they write and market to their prospective customers.
When you take a look at their strategies you can get ideas on how to market your products and services in a way that is appealing to your audience. Your plan is to create a way of making you stand out so that you are set apart and are able to make yourself unique in your approach to marketing to your audience.
If you are marketing from your website you need to gain an understanding of the online habits of your target audience.
This will enable you to set up a business plan on how to start building your marketing strategy.
How to Develop a Niche Marketing Strategy Step 5: Put Your Ideas into Action
You have gone through the process outlined in the four steps above, now is the time to create content and share information with your target audience with your specific niche.
There will be quite a bit of testing as you learn what resonates with your audience. This will enable you to build out your database of information relevant to your niche.
Continue to evaluate your target audience and their habits. It is important that you are continually aware of their needs, desires and wants.
When you address one of their problems you can so often discover another related problem that you can help them with.
As you build your business you will be continually learning about your target audience. This is what makes marketing so exciting as you discover how you can promote your products and services to enable you prospects and customers to have their needs met.
How to Develop a Niche Marketing Strategy Conclusion
As you work through these five steps it is important that you begin by thinking about who you are. What are you passionate about as this is what will make you a magnet to your target audience.
They will be drawn to you through your enthusiasm for your product or service that you are wanting to share with them.
You will develop the know, like and trust element through taking the time to do your research on your expertise and how you can help your target audience with their challenges.
By spending time on research you will develop an understanding of your target audience and their needs in such a way that you will be able to become their go-to –person for the information they are looking for.
As they get to know you and feel that you understand them, they will become loyal customers and clients and you will build a successful business in your specific niche.
Did This Post Help You? Share your thoughts in the comments below. And, feel free to share it
To your Success
Elaine
PS: Ready to take your business to the next level? Check this link to learn tips from top earners
ATTRACT BUYERS TO YOU!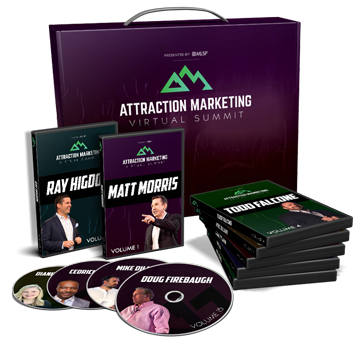 Uncover the Greatest Secret of the Top Earners to ATTRACT MORE LEADS, Customers, Clients, Sales and Sign-ups in 24 Hours!