5 Secrets: How To Use Goals To Create A Successful Business
Do you want to create a successful business? This is the dream for many people with an entrepreneurial mind-set.
When you start out on your journey as an entrepreneur your major dream is to become your own boss and pursue your vision and aspirations to build a successful business.
For many the restrictions of the corporate world and forgoing opportunities to spend time with family make the entrepreneurial life very attractive.
When you have the burning desire to realise your dreams there is the determination to start the journey and no matter what you will not give up, no matter how rough the path to success might be.
So if being an entrepreneur is your ambition, congratulations. Now that you have set that plan the questions is what to do first.
How To Use Goals To Create A Successful Business
The best plan is to start creating your goals. Write these down and make sure you establish achievable targets and objectives as this will enable you to accomplish your plans and goals.
A significant principle to keep in mind, is to think long-term but work short-term. It can be so easy to get caught up in the long-term plans and dreams but to achieve these we need to work in the present.
Know your plan, work on achieving your plans.  Learn to be adaptable as there will be numerous adjustments to be made along the way. This is because building your business takes hard work. If this journey was easy everyone would be doing it.
It is because it takes dedication and persistence that only the serious entrepreneur who is determined to achieve their goals stands firm!
If you want to be happy set a goal that commands your thoughts, liberates your energy and inspires your hopes. Andrew Carnegie
Click To Tweet
Here are five action steps to utilise to help you accomplish your goals and build a successful business.
Use Goals To Create A Successful Business: Tip #1: Create S.M.A.R.T. Goals
You have created a rough outline of your goals and so now is the time to turn these assorted ideas into a specific and realistic plan of action. S.M.A.R.T. goals are not only smart, they are crucial to your business success.
So let's take a look at what having S.M.A.R.T. goals means.
Specific: Well-defined goals are achievable and get completed, unclear wishes become overlooked and easily forgotten.
Measureable: This covers, how much, how many and how will I know when it is accomplished. Give yourself realistic deadlines to achieve your goals.
Attainable: Think big, but keep your plans realistic and achievable within a specific time-frame.
Relevant: Create goals that fit in with and advance the direction you want your business to take
Time-bound: When you have specific deadlines, this gives you a sense of urgency that is missing when goals are open and vague.
Once you have looked at this criteria and you goals are still seeming vague and don't fit in with these steps, you need to take the time to revise your goals until they do.
Take the time to sit down and work through each goal and evaluate it against each of the S.M.A.R.T. benchmarks until each goal is specific, measurable, attainable, relevant and time-bound.
Use Goals To Create A Successful Business: Tip #2: Create A Plan That Turns Your Goals Into Small Achievable Steps
If your goals are too large they can become daunting and this stops you from being able to work on them.
The secret is to focus on small achievable steps that will help you reach your goals.
It is important to keep in mind that progress toward your goals is a gradual process. Your journey to a successful business is a marathon not a sprint.
So don't allow yourself to focus on how far away you are from your goals but instead focus on each step you are taking to take you closer to your goals.
Create a list of the steps you need to take in the specific order required to accomplish each goal. Then work through each step and make that your only focus until completed.
Keep your end results in mind but concentrate fully on each small step that will create the end result.
Use Goals To Create A Successful Business: Tip # 3 Consistently Check Your Progress
Planning your progress in small achievable steps is great but it is important to regularly assess your progress.
This will enable you to stay on track with your plans and help you achieve that big goals you have your focus on.
Spend time at the end of each week to see how your plans are progressing and make any tweaks that may need to be made to help you achieve your goals.
As part of your daily planning it is a good idea to review your day in the evening as you are creating your daily plan of action for the following day.
All these checks will help you stay focused on your plans, goals and vision.
Use Goals To Create A Successful Business: Tip #4 Accountability
It is always helpful if you have a mentor who can support you in your journey. Having a friend or accountability partner to discuss your progress with helps you stay on track and avoid procrastination.
Having someone checking in on you on a regular basis will keep you from lapsing into delaying tactics. It can be so easy when you are only accountable to yourself to put things off until tomorrow.
When you have an accountability partner you are more inclined to stick to your plans as you have someone to encourage you and to discuss your ideas with.
Use Goals To Create A Successful Business: Tip # 5 Be Consistent and Focused
When you put these steps into action you have a greater chance of achieving your goals
It doesn't matter how much planning your do or how great your plan is if you don't stick to it and keep going toward your goals it is ineffective.
Your success depends on you keeping to your plans and working on them consistently.
Following these steps will help you on your business journey but remember there will be obstacles and set-backs along the way. These steps will make the process more clear-cut but there is nothing anyone can do to make the course to your goals easy.
There will always be times when you will need to evaluate your plans when unexpected hurdles arise. These are often the times when you feel like quitting, this is a natural feeling and all entrepreneurs have these days. The people who did not give in to these feelings are the ones that achieved success.
Just focus on your S.M.A.R.T. goals and keep working on your plans. Keep your vision firmly in your mind and have success as your purpose and your big reason why you are on this journey.
Use Goals To Create A Successful Business: Final Thoughts
Having a business plan means you have a vision for your future. It is when you work on the plan that you become successful.
You have taken the time to create a suitable plan so now is the time to put it to good use.
Stick to the plan and review it regularly to make any suitable adjustments that will make the plan better. Business plans are guides but if you take the time to create a strong plan then you will achieve success.
When your business plan covers all the important steps to take you to your goals then your roadmap is a comprehensive and thorough guide.
What is central to your success is to start simple, as that is the way you will be able to process the information required to achieve your goals and create a successful business.
Did This Post Help You? Share your thoughts in the comments below. And, feel free to share it
To your Success
Elaine
PS: Ready to take your business to the next level? Check this link to discover business tools and training to build a successful business
RARE PROFIT SYSTEM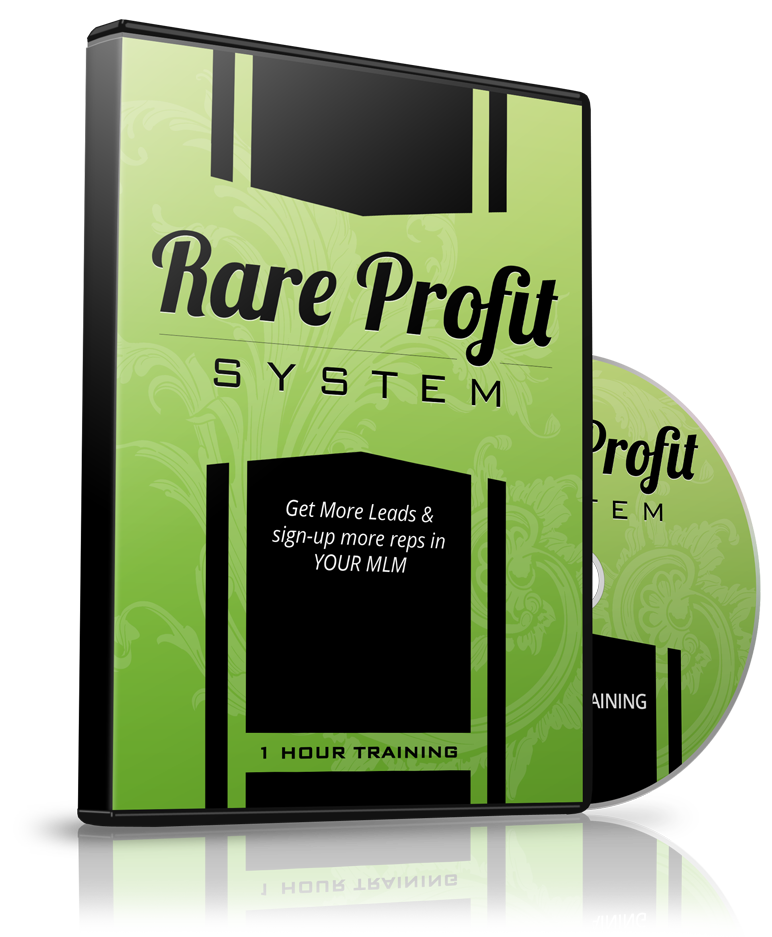 NETWORK MARKETERS: Simple System PROVEN to help you Get More Leads & sign-up more reps in YOUR MLM - See PROOF