Turn These Common Mistakes Into Business Success Strategies
 Are you making these three common mistakes in your network marketing business?
It can be so easy to make a few mistakes as you promote and share your network marketing business.
You are after all excited about your products and being able to build a business from home.
The problem is that when people make these three common mistakes they are jeopardising their success.
While these mistakes can cause a few issues for your business the good news is that there are ways to overcome these mistakes. You can build a successful business as an attraction marketer by being focused on your ideal target audience and their needs, wants and desires.
In this article we will look at how to avoid these common mistakes and create success strategies for your business
 Common Mistakes Network Marketers Make #1: Pitching the Product or Opportunity
As a network marketer you are excited about your products and business opportunity.
This makes it so easy to be caught in the trap of talking in-depth about the products and business.
But unfortunately your prospects may not be so excited about the wonders of your products and business opportunity.
It can be so easy to start sharing the great ingredients of your products or the comp plan of your business. This can sound like gobbledygook to your prospect and you get a glazed look.
What your prospect really wants to know is what is in it for them. This is how we are wired.
While you are talking to them the following thoughts will be going through their mind:
"What's in it for me?
What's this going to do for me?
How would this benefit me?"
They will be wanting to know the value to them of what you are offering as benefits are always top of mind when we hear about something new.
So while you might be excited about what you have discovered your prospects might not be. Not all your prospects want the same things that you do.
Even if you have a prospect who does want what you have, you need to be sensitive in what you share and how you share it.
Instead of sharing a heap of jargon on product ingredients and ground floor opportunity and the like you need to let them know what your products or business can do for them.
Before you start to talk to a prospect you need to ask yourself a few questions. These questions are putting yourself in the place of your prospect and getting into their mind.
These are question like:
Why would this prospect join my business opportunity?
Why would this prospect want my products?
Do they have specific problems I can solve?
Do they like to travel?
Are they concerned about their health?
By spending time thinking from a prospects perspective you are in a better position to get their attention. They will feel you care about them and are not focused on your own interests.
You should be focused on looking for their problems so you can offer solutions that your products or business can solve.
Spend the bulk of your conversation talking about the benefits and a small amount sharing particular information and details about the products or business opportunity.
By doing this you are focused on the end result that will be gained by using your product or joining your business opportunity.
Remember that your prospect is thinking about what is in this for them as you share information with them so this is what your focus should be.
They may not actually be thinking too much about the products or business opportunity. Instead they are thinking about what is in it for them.
Business Tip: Look for the problem and offer a solution your products or business opportunity can solve.
Common Mistakes Network Marketers Make #2: Creating Social Media Posts That Look Like Advertisements
You will have seen these as you scroll through your news-feed on social media.
Pictures of products with details of how to buy now, or how this great product can help you lose weight or similar headlines. You get the picture as you will have seen so many of these.
While everything that is in the post is true and the products may be exceptional they leave us cold as they are so much like an advertisement.
As people scroll through their news-feed you want to stand out because your post is focusing on the readers feelings.
It is our emotions that create our decision and we back them up with logic later!
The best way to grab attention with your post is to describe how they will feel or the experiences they will have when they purchase your product or join your team.
When you create curiosity you will have people contacting you to find out what you are doing.
So instead of posting a photo of your product with the headline this product can help you lose weight you could have a post that makes your reader think about how great they will look at the beach this summer with a picture of people having fun at the beach.
If you are promoting your business opportunity instead of talking about the comp plan or you are looking for five people to join you, you could say something like
"I enjoy the fact that I never miss out on my children's sports events because I have a business that allows me freedom would you like to learn more?"
You want to paint a picture in your reader's mind of how they would feel if this was their situation.
You're painting a picture that your reader can visualise as an experience they would love to enjoy.
When you develop the skill of painting pictures with your words to get your reader's attention you will make a strong impression that will create curiosity and have people reaching out to you for information.
Business Tip: Create curiosity about your products and business opportunity and you will stand out from the crowd.
Common Mistakes Network Marketers Make #3: Having a Bland Generic Message
Many network marketers have a generic message they use when asked what they do.
 If you want to get the attention of each person who asks that question you need to be able to structure your response to be specific to the person you are talking to.
It can be so easy when asked what you do to start talking about your business and how it helps people earn extra money or have more free time.
Many people get enthusiastic and start sharing too much information about their biz op.
If you have completed your preferred avatar for your business and products you will want to create specific messages for these people.
This is a formula you could use as a base to add in details to suit your prospect
I help __________ to __________ so they can __________.
Here is an example
'I help mums to create an exciting home based business so they can spend more time with their young family.'
Here are a few other types of examples
I help people achieve their weight loss goals with a simple exciting plan that doesn't even feel like a diet.
I help people plan exciting vacations at a great price and enjoy earning money while they are experiencing the various locations of their choice
I'm in the business of helping busy executives leave the corporate world of stress and long hours and be able to create their own schedule working  from home
The great part of these types of messages are that they are general and don't mention a company or product.
You are just doing what network marketing is all about and that is helping people.
So next time you are asked what you do think of this formula
I help __________ to __________ so they can __________.
When you are able to perfect this you'll be well on your way to start a successful conversation.
Business Tip: Craft a specific elevator speech that is relevant to your target audience and make it personal for each person and you will generate more interest than if you have a generic and bland statement.
How to Overcome the Common Mistakes Network Marketers Make Summary
 It is important that you know your ideal prospect and are familiar with your target market.
If you plan to have great messages to share with your prospects you need to keep in mind a few things about building your business.
Firstly everyone is not your ideal prospect. You will probably have heard the saying that if you market to everyone you are marketing to no-one. Many network marketers believe that everyone will benefit from their products and business opportunity. While this may be so not everyone will want them.
It is important that you create an avatar of your ideal customer and team member.
This way you will know the exact pain and problems your target audience have.
When you have established this you will be able to create messages that address what they are feeling.
Once you have a clear idea of what your target audience wants you will be able to share information that gets their attention because you have addressed their situation.
You will now be utilising the art of attraction marketing and people will want to know more.
When you understand the common mistakes that you could be making in your business and how to correct them you will find that building your business will become more enjoyable.
Did This Post Help You? Share your thoughts in the comments below. And, feel free to share it
To your Success
Elaine
PS: Ready to take your business to the next level? Check this link to discover business tools and training to build a successful business
THE TOP EARNER FRAMEWORK?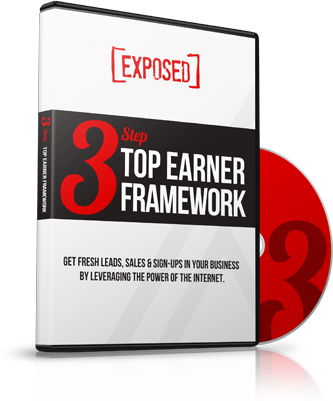 FINALLY Unlock the 3-Step Framework and Learn How to Get Fresh Leads, Sales & Sign-Ups in YOUR Business Leveraging the Power of the Internet.