What To Do If  You Are Suffering From Comparitis
Have you ever suffered from comparitis? You probably have as so many of us fall into the trap of comparing our life to the life of others.
We have a goal and a vision and we start working on our plans and then we see someone else having greater success than we are.
This can cause feelings of frustration and if we allow these feelings to take control we think about quitting on our dreams because it just feels too hard to keep going.
What we need to do when we find the comparitis bug taking hold of our thoughts is to realise that we are all on our own personal journey.
There is no point in comparing your chapter two to someone else's chapter ten. We are all at different stages in our journey and wasting time comparing your beginning stage to the middle stage of someone else will only hold you back.
If you have a dream don't let comparitis steal your dreams. Instead focus on your goals and enjoy the process.
Remember we all have a different journey even if our goals are similar.  The journey to creating success with your goals is a marathon not a sprint. When you focus on your vision and goals you will get to your destination.
Before we take a look at four tips to help you break free from comparitis take some time to think about what you have learned and achieved in the last few years.
Breaking Free From Comparitis Tip #1: Compare Yourself To Yourself Not Others
Are you constantly seeing what other people are doing and instinctively start to compare yourself with what they are doing and begin to feel inadequate?
The first step to changing the process is to be aware of the trap that comparitis can be to your business.
You are consciously or unconsciously comparing yourself to what they are projecting.
Everyone else's life appears to be perfect and yours isn't. This is the time to remember that so many people are not sharing their struggles only their successes.
Take time to look at how you feel when you are consumed with comparitis.
Are you feeling inadequate with feeling of self-doubt in your abilities? Do the achievements of others leave you feeling envious and depressed?
If you are having these feelings it is time to stop comparing yourself to other people as it is not empowering you to achieve your goals.
The only person you should be comparing yourself with is yourself. When you look at what you achieved last week or last month you will be encouraged to see how far you have come in a short space of time.
Take some time to write down your achievements and celebrate them. You will immediately feel great!
Breaking Free from Comparitis Tip #2: You are Unique
You will have heard the saying 'comparing apples to oranges'. This is what you are doing if you continually compare yourself with other people.
We are all unique and are on our own specific journey.  When we waste time comparing ourselves to other people we are damaging our ability to stand out in our uniqueness.
You will discover as you look at what other people are sharing so many of them are sharing only their high points and successes. This means you are only seeing what they want you to see.
The people to check out those that are willing to share their low points, failures and difficulties.
No-one has been an overnight success. Everyone who has achieved success has had many trial and error moments where they have had to pick themselves up and try again.
So don't compare yourself to other people who appear to be having it easy, instead make it your plan to be your best self. You have a dream so pursue it, put your blinders on and don't let what other people are doing affect your vision.
Try not to get lost in comparing yourself to others. Discover your gifts and let them shine! Jennie Finch
Success is doing your best, with what you have and where you are. Focus on your unique abilities and skills.
Breaking Free from Comparitis Tip #3: Focus on Gratitude
Instead of comparing yourself to other people and feeling inadequate to achieve your dreams, focus on the things that you are grateful for.
When you spend time feeling happy with your life and who you are as a person you will be able to work toward your goals.
If you make it your plan to be happy where you are you will discover you have a feeling of abundance and gratitude.
Create a gratitude journal and every day write down everything you are grateful for.
This will empower you to become an action-taker and work toward your goals with renewed confidence.
When you focus on gratitude you are immediately disempowering the control comparitis has had over you.
You will immediately begin to feel that you can achieve your goals in your own time and what other people are doing is no longer a stumbling block to you.
Breaking Free from Comparitis Tip #4: Be an Action-taker
Instead of putting your energy into comparing yourself to other people, focus on taking action on your plans.
Create a daily action plan and work on it consistently and you will begin to feel energised and excited about your goals.
Always be a first-rate version of yourself, instead of a second-rate version of somebody else. Judy Garland
When you are an action-taker you will discover you no longer have time to compare yourself with others. You will be so busy working on your business and providing value for your target audience so you can build a successful business and stand out in your niche.
You will feel your energy changing from the drain of comparitis to the exhilaration of achieving your dreams. Now you are working at your own pace and comparing yourself with yourself so you can become a stronger person.
Your life is taking on new purpose and has greater meaning because you are putting your attention on your goals and achievements and not on what other people are doing.
This is very uplifting and you have now broken free from the trap of comparitis.
Breaking Free From Comparitis Concluding Thoughts
While comparitis can be a difficult habit to break free from it is one that everyone who is building a business should spend time working on.
When you are focusing on your own business journey, goals and dreams instead of everyone else's you find your life is so much more exciting and your plans inspire you to continually take action and discover new skills you have.
Instead of spending time comparing yourself to other people who are having success spend time working toward your own.
Comparitis is a waste of valuable time.
So check out your plans, focus on your vision, put your blinders on and work toward your goals.
The only person to compare yourself with is yourself and each day is a stepping stone to success.
When you focus on your achievements you will be so busy celebrating your own success and will have no time to compare yourself to anyone.
Create a success journal, check it at the end of the week and spend the time you once gave to comparitis to celebrating your achievements and how far you have come on your journey!
Did This Post Help You? Share your thoughts in the comments below. And, feel free to share it
To your Success
Elaine
PS: Ready to take your business to the next level? Check this link to discover business tools and training to build a successful business
THE TOP EARNER FRAMEWORK?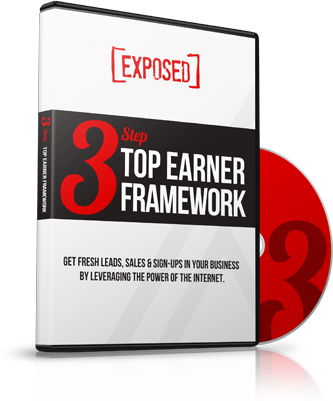 FINALLY Unlock the 3-Step Framework and Learn How to Get Fresh Leads, Sales & Sign-Ups in YOUR Business Leveraging the Power of the Internet.