Welcome To My Page My Entrepreneurial Marketing Friend!
10 Qualities of an Entrepreneur
As an entrepreneur you understand that every experience and setting is a business opportunity. Success comes to those who see these opportunities and seize them.
If you get excited by the following questions you have the ability to be an entrepreneur.
"Can I do this?"
"Do I want to do this?"
You turn these questions into " I can do this" and "I want to do this"
When you decide to have your own business you have in front of you a long road that has interesting and sometimes overwhelming twists and turns.
So what does it take to be a successful entrepreneur? This is a question you have possibly asked yourself as you consider the prospect of starting your own business.
Do you believe you have the ability to be an entrepreneur?
I have listed below 10 qualities of an Entrepreneur.
As an entrepreneur you will recognise these traits.
Entrepreneurs are Risk Takers 
As an entrepreneur you are willing to take calculated risks to achieve your dreams.
Entrepreneurs are not afraid to take risks. They have a dream and are ready to take a leap of faith that will take them into an area of uncertainty.
Because they have a vision of what they want to achieve they are willing to take a few calculated risks with their time and money. This will often take them into an unknown territory but they are eager to give it a go to achieve their goals.
Successful entrepreneurs have weighed up the risks and have made preparations to help them through the process of navigating their journey into an uncertain future. This actually excites them as they are willing to face their fears and take the leap.
An entrepreneur who is willing to take a risk to achieve their dreams knows that you never get anywhere if you are afraid to take that leap of faith.
They don't let uncertainty or even the thought of failure stop them from working on their dreams and goals. For them challenges and risks are great opportunities and not problems.
Entrepreneurs see obstacles as great opportunities for success
Click To Tweet
It is their determination to succeed that keeps them going and they are willing to take calculated risks as they believe their vision is achievable.
Every successful entrepreneur believes in themselves, and because of this they embrace their fears and uncertainties and keep working toward their goals confidently believing their risks will pay off.
Entrepreneurs are Self-starters
You are in charge of your destiny as you are self-motivated and are a born go-getter.
As a self-starter an entrepreneur needs a great deal of self-confidence to enable them to handle the risks involved in their new venture.
A strong self-belief in your strengths and abilities to achieve your vision is an attribute of an entrepreneur.
This is where an entrepreneur must have the courage to turn their vision into a strong business.
As a self-starter an entrepreneur has the desire to succeed and their risk-taking spirit is an important component that helps with their self-belief.
You have seen opportunities and love the challenge of being able to develop these opportunities for the benefit of your business.
What sets you apart as a self-starter is that you have seen opportunities and are looking forward to the challenge of putting your skills to the test.
You are courageous and have a strong desire to pursue all the opportunities you see in front of you.
Being proactive and knowing what you want to achieve is part of being an entrepreneur. You know what needs to be done and you will be the one to do it. Permission from other people is not necessary as you are a self-starter!
Entrepreneurs are not Afraid of Responsibility 
You are aware that to achieve your vision you have an assignment to complete and you are willing and able to take responsibility for your actions.
As an entrepreneur it is important that you have a sense of responsibility. You have a strong work ethic and are willing to work hard to achieve your goals and make your dream a reality.
Making mistakes along the way is something you understand, but you see these as an opportunity to learn and develop new skills.
There is no time to focus on seeing mistakes and problems as failures instead this is the time to look for solutions and make these mistakes great stepping-stones to success.
As an entrepreneur you believe you have a unique contribution that you can make in your chosen business niche.
You want your business to provide value to your target market.
Because of this determination you are willing to work hard on your projects to make them successful.
Successful entrepreneurs have a vision and know that they need to focus on their goals and this means removing anything that will interfere with their plans to reach these goals.
They understand the responsibilities they have to ensure they have the necessary self-discipline to take daily strategic steps toward achieving their targets.
Entrepreneurs are Extremely Organised 
You have your dream and you have created your vision board which you review each day to inspire you as you plan your daily schedule.
It is your vision board that keeps you motivated to achieve your goals. You have a deep-seated confidence in your ideas and your ability to succeed.
As an entrepreneur you are continually asking yourself questions and looking for answers that will help you achieve everything you have on your vision board.
This is because you are passionate about the outcomes of your actions.
You are continually searching out new ideas that will benefit your business and achieve your goals.
To be able to stay focused on your goals so you can turn your vision into reality you are very disciplined in your actions.
This means you are willing to work on every task required until completed.
Being focused is a major component for the success of your business.
You know what your business plan is and your daily focus is on taking the necessary steps to achieve your plans and develop your business.
 Entrepreneurs are Effective Leaders 
You have a vision you want to accomplish and you have a strong desire to share that with your team.
To be an effective leader it is important that you have good interpersonal skills.
You recognise that your success will depend on your people skills as much as your business skills.
If you want to build a successful team it is important that you recognise your team. You understand that if your business is to grow you need to lead your team well.
This means that as an entrepreneur you should focus on having interpersonal skills as a quality high on your list.
Being able to motivate your team and coach them to success will enable you to have a strong and enthusiastic group of happy people.
This is achieved by setting the standards of dedication to the outcomes of your goals. A strong work ethic is the hallmark of an effective leader.
As a successful entrepreneur you have a passion for what you do. You are willing to put in the hours needed to achieve your goals. This passion is shared with your team as you set the example for achieving success.
Your plan is to show your team the view from the top of the business summit of success. This will encourage them to have a vision for their future as you have given them a clear sense of direction.
Entrepreneurs are Skilful Planners 
You have your business plan in place and you have a daily method of operation (DMO) as you know that this is the only way you are going to achieve your goals.
As an entrepreneur you have a passion for your business. You are willing to put in the work required to build your business.
Your vision and goals are top of mind as you plan out each day.
To be able to achieve success you must love what you do and strong planning skills are imperative if you want to succeed.
Effective planning skills are a major area to focus on as your build a successful business.
All successful entrepreneurs have a business plan in place but they are also flexible with it as there will always be unforeseen possibilities and opportunities that will mean the business plan will require some changes along the way.
Successful entrepreneurs are decisive and action oriented.  As you plan you will need to make decisions that affect your business. This means you need to take action and often think quickly.
Successful people are determined and focused which means they try far more ideas than other people do. This means that they are willing to try many different ideas until they find the one that is right for their business.
Entrepreneurs are in it for the Long-haul 
Your vision is pulling you and you plan to keep going until you achieve your dreams no matter what. Frustration and failure are just part of the road to success in your eyes.
Entrepreneurs have a vision which means they have a commitment and the ability to persevere.
To achieve business success they know that there are responsibilities involved.
Successful entrepreneurs have a high level of energy that makes them hold on to their vision.
They don't give up when they encounter challenges. Instead they see these as great opportunities to explore to see what successful outcomes they can achieve.
It is total perseverance that sets successful entrepreneurs apart from those that are unsuccessful.
Their determination to never quit means that they will succeed and because they are in it for the long haul they are not fazed by the time it might take.
All successful entrepreneurs have a clear sense of the direction they are going.
They are big dreamers. Successful entrepreneurs have a vision for their future and they are willing to do whatever it takes to make that vision a reality.
Being possibility thinkers they love a challenge and are not willing to let any barriers hold them back.
They are continually looking for answers and solutions to any challenge that comes their way.
It is their vision that gives them purpose and enables them to stay focused on where they want their business to go and what achievements they are determined to accomplish.
Persistence is a major quality of the entrepreneur who plans to never give up on their dreams.
It is an essential quality that creates success for every entrepreneur as they focus on their goals.
They made the resolve at the beginning as they set out on their business journey that they would never give up.
Your most significant strength will be your determination to persevere longer than anyone else. This is the true indication of how much you believe in yourself and your ability to succeed in your business.
 Entrepreneurs are Competitive 
Your attitude is "I am ready for action bring it on!" You see what other entrepreneurs in your niche have achieved and you are driven to succeed.
As an entrepreneur your plan is to succeed and you know the importance of learning from those who have created the success you are planning for yourself.
Your competitive attitude means you have confidence in yourself and believe you can achieve success.
You understand that gaining knowledge is a major factor in your success.
Being an action-taker will take you from where you start your business journey to where you want to go.
You are serious about success which is why you are an entrepreneur.
It is your level of commitment and enthusiasm that will encourage you to take action to achieve the success you are wanting.
Your competitive spirit and thirst for knowledge will be the edge that keeps you focused on your goals.
You understand the importance of surrounding yourself with people who have achieved the success you plan for yourself. These are the people who are going in the direction you are planning to go and are serious action-takers.
When you seek out successful entrepreneurs they will challenge you to take action as they are an inspiration to you.
Your attitude of wanting to achieve success will ensure that you have a daily routine. This is what all successful entrepreneurs have.
It builds up the momentum and being an action-taker is what will make the difference in your business.
Entrepreneurs are Creative 
You are innovative and your imagination was working on over-drive as you created your vision board and you were visualising yourself as having already achieved your dreams and were living the lifestyle. You are now working on turning that dream into a reality.
Successful entrepreneurs love what they do. In fact they are passionate about their vision and goals.
Their work feels more like fun as it inspires them.
It is their dreams, plans, vision and goals that energise them every day. Because of their commitment to their vision, even if they hit a hurdle and their plans fail their enthusiasm isn't damaged because their motivation keeps them going.
Part of you plan as you see yourself as the successful business person you have in your vision you are focused on your goals.
Everything you do has purpose as you are living from the perspective of success.
As a creative entrepreneur you don't think the same as everyone else. Instead you are thinking outside the box, with endless great ideas.
For you to achieve your goals and become the person you dream of becoming you will be looking for new ideas and as a creative person you will be planning to impact your world for the better.
Entrepreneurs are Comfortable Living Without the Structure of a Regular Job 
You are the type of person who has always been able to plan your own schedule even as an employee so you are well able to create your own structure to achieve your goals.
You have a compelling need to be independent. The entrepreneur within you wants to be in charge and be your own boss.
You want to create your own course to success, as you know you have skills and abilities that will help you achieve your dreams.
Your entrepreneurial spirit has always seen you making decisions without the need for someone else to push you.
In fact you don't actually feel the need to take orders from other people.
While there may be times that being your own boss and making the decisions could be overwhelming, the rewards will outweigh this as you see the results of the hard work you have put in to achieve success.
Entrepreneurs are enthusiastic about what they do. Their energy comes from within which means they are not depending on someone else to guide them toward their goals.
Closing Thoughts on the 10 Qualities of an Entrepreneur
These are just a few of the qualities that make an entrepreneur successful, possibly the most important are ambition and enthusiasm
Here are some questions to consider as you plan your entrepreneurial journey to success
Do you have something you can work on over and over again without getting bored?
Do you have dreams and ideas that keep you awake at night that you can't wait to put into action?
Are there activities that you enjoy so much you want to continue doing them for the rest of your life?
Have you started a project that you want to keep working on to develop it further to create success?
If any of these resonate with you start working on your plans to achieve the success you visualise for yourself.
Make it your plan to fulfill your purpose and if you have a dream to create success because you have a vision and goals that inspire you start your journey today.
I trust these qualities have inspired you and you see yourself fitting into all or most of them.
If these traits describe you congratulations you are well on your way in your journey as an entrepreneur!
Please join me on Facebook to share ideas and encouragement as fellow entrepreneurs.
To your Success
Elaine
THE TOP EARNER FRAMEWORK?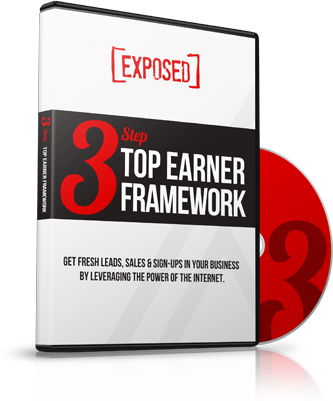 FINALLY Unlock the 3-Step Framework and Learn How to Get Fresh Leads, Sales & Sign-Ups in YOUR Business Leveraging the Power of the Internet.